blog post by Mary Finn —
(See part One in the February 2022 blog post)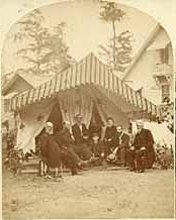 When I learned a few years ago that Quakers met at Chautauqua in 1900 to form Friends General Conference (FGC), "The most influential center of American Liberal Quakerism in the 20th c." (Hamm, 2020), I was surprised and intrigued. Who were these Quakers and why had they come to Chautauqua to create this new organization?
I had not seen any reference before to a special connection between the Religious Society of Friends (Quakers) and Chautauqua Institution although of course there is a Quaker Meeting here on Sundays during the nine week "season". But most mainline religious denominations have Sunday services here too so it hadn't occurred to me that there might be more to the story. However, when I saw that not only had up to 2000 Quakers spent a week here during the middle of August, 1900, and that their organizational activities had been a major part of the Chautauqua program–with every meeting and event listed in the Daily and reviewed by the newspaper staff—I decided to keep digging.
My questions and tentative answers:
Who were those "Hicksite" Quakers who founded Friends General Conference?
They were Liberal, reform-minded Quakers from seven "Hicksite" Yearly Meetings. Many also were or had strong connections to "Progressive Quakers" who had formed their own yearly meeting in Longwood, PA in 1853, after almost 20 years of struggle for reform within the Hicksite yearly meetings. The conflict over reform began shortly after the 1827 Separation that divided the Religious Society of Friends in the U.S. into two rival streams generally referred to as Hicksite (liberal) and Orthodox (conservative).
The story of the founding of FGC in my view is the story of the "Liberal" Quaker response to the steady decline in the number of Hicksite Quakers, the undemocratic structure of the Society of Friends, and the need for social reform. So the story becomes WHO were those Liberal Quakers and what exactly was their reform mission? How has Quakerism practice today been impacted by their reforms?
The hero of the story, again in my view, is Henry Wilbur, a birthright Quaker member of New York Yearly Meeting that you have never heard of but who drew the disparate interests of FGC founders into a shared commitment to Outreach, to sharing the Truth Quakers had discovered.
What drew Quakers to Chautauqua from Philadelphia, New York, Baltimore, Genesee, Ohio, Indiana, and Illinois Yearly Meetings* to establish this new organization?
Four Associations had formed within each of the seven Hicksite Yearly Meetings to address Quaker concerns: the First Day School Association; the Union for Philanthropic Labor; the Religious Association, and the Education Association. Beginning in 1868 the Associations from each yearly meeting began to gather together to address their shared concerns. These gatherings had always previously met in "Friendly" neighborhoods where Quaker 'peculiarities', which were gradually being discarded, were accepted as part of the scenery. Why did the process that had been in place since 1868 change? Was this first stepping out motivated by the desire to conduct outreach?
*(combinations of Friends' local Monthly Meetings located in loosely defined geographical areas)
Why did two Methodists from Ohio, John H. Vincent, a minister and Lewis Miller, a prosperous entrepreneur, who co-founded Chautauqua Institution in 1874, invite Liberal Hicksite Quakers to hold their 1900 gathering at Chautauqua in the midst of the Assembly "season"?
According to Deborah Haines (2000), "The relationship between Chautauqua and Friends General Conference has yet to be researched." But I have identified some areas of common interest that offer clues if not definitive answers to these questions. It's a complicated story with many intersecting topics but it seems clear that the founders of Chautauqua, and those who founded Friends General Conference, shared the outlook of Religious Liberals, a widespread movement in the late 19th c. that sought more liberty in religious beliefs, and a vastly expanded access to a liberal and liberating education.
Lastly, How can we discern the import of these events for Friends and Chautauquans today, one hundred and twenty-two years later?
Chautauqua Institution, a quickly growing educational concern, had, during the twenty-six years preceding the 1900 origination of FGC, devised and developed one imaginative educational innovation after another, some more successful and lasting than others, but with enough value overall to earn CHQ respect in the history of adult education.
Quakers, in 1900, had been around for 350 years and, in America, had suffered from division and conflict and their own low-grade civil war for decades. The founding of FGC in 1900 promised a greater ascendancy of the Liberal and Progressive elements within the Society of Friends, a story that has not been properly told.
Haines (2000) provides a Brief Historical Overview of FGC as a start in remedying the fact that the creation of FCG has been largely overlooked in the history of the "spiritual re-awakening" that transformed American Quakerism in the late 1800s. Strangely, however, her story of the Liberal Hicksite founders of FGC opens with a discussion of the impact of the spiritual re-awakening on the Orthodox version of Quakerism that competed with Liberal Quakerism. Fager (2002) has an explanation for Haines' lapse but that comes later in the story. The significant point for now is that the Liberal/Progressive version of Hicksite Quakerism provides a vision that could today, as was proposed in 1900, begin to reverse a decline that threatens the very existence of the denomination.
Liberal Quakers shared the Chautauqua founders' vision of the way forward through education to both;
a) modernize the understanding of Bible stories, and the structure of religious organizations,
b) increase each individual's belief in their power to think for themselves and to demand a just democracy through a liberating education.
The story of these common interests and shared values begins with the Sunday School movement that originated in England in 1781. Sunday Schools were introduced in America shortly thereafter, 1786. But we'll skip ahead a century—to the post-Civil War rapid expansion of Sunday and First Day Schools and consider how Sunday Schools contributed to the Chautauqua founders' goal of eliminating the "opportunity gap" resulting from lack of education for adults, and to FGC's founders' desire to share with adults through outreach the core Quaker doctrine of establishing a "democracy of opportunity".
Watch for a future blog on the rise of Sunday Schools and First Day Schools